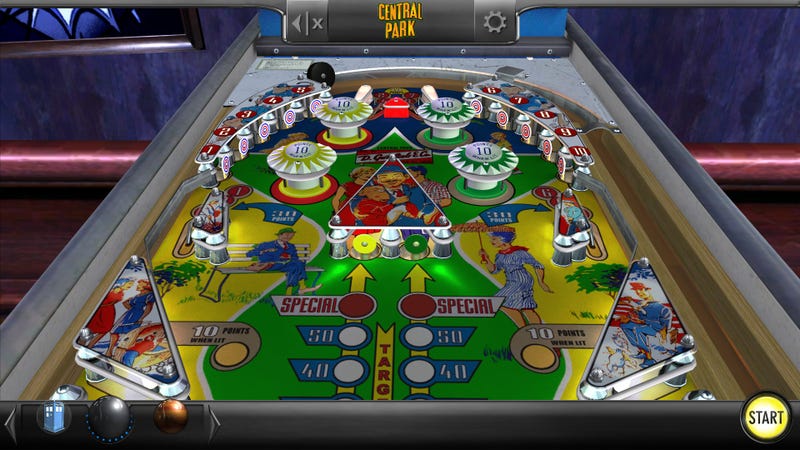 Today, all of the Bally/Midway/Williams Electronics pinball tables are removed from sale in Pinball Arcade. If you do not own the licenses for them, then you are no longer able to purchase the emulated tables for your own use.

I've spoken at length about Pinball Arcade before and how, regardless of what I think of Farsight Studios' dismal work with the DX11 client, it serves a necessary role in the preservation of gaming history for the general public. Since we're getting tables removed, I figured that I'd do my part and talk about the tables as I play them.
Of course, I'm not going to do one article per table. That would be stupid.
However, one article per era of tables? That sounds more plausible and reasonable, with separations per manufacturer would certainly be welcome.
So, we start our retrospective with a single table - Released in 1966 by D.Gottlieb & Co. and the earliest table you can play in Pinball Arcade.
60's - Central Park
Released in Pinball Arcade as part of Season 2 and the first table released for that season, Central Park is absolutely necessary to play in order to understand part of pinball's history as viewed through the lens of video game emulation.

Central Park is... a table. I'd dare say the only people who can appreciate this table were alive in 1966 and actually played it live but I actually don't mind playing it. It requires (and Farsight mentions this in their little introduction to the table when you first launch it) careful tilts of the table to maximize score as the outlanes are equipped with several drains, and the gap between the flippers is not something most pinball afictionados will have ever encountered. That thing is MASSIVE and the flippers are TINY.
The rules of the table are fairly simple - Every time you complete the numbers 1-2-3-4-5 by hitting targets or going down certain drains, you get 1 light risen up in the left middle, and completing 6-7-8-9-10 does the same on the right. The lights determine the point value of the middle targets incresing by 10 until 50, then going to special. Special means an Extra Ball, and you get that by completing subsequent targets of the numbers or hitting the target. From what I understand, you start with 5 balls and can gain up to a maximum of 15. After 15, it will no longer register any new Extra Balls and you will ultimately drain.

The scores themselves are all written very clearly on the table. The table itself has a design that reeks of the '60s. It's completely yellow, with time approprate drawings everywhere else. The backboard has an animated monkey that will ring a bell every 100 points. The scoreboard itself only goes up to the thousands, so rolling over the score is very feasible but I've never been able to do it myself. Most of my runs end in the 5,000s, but I never claimed to be good at this table. While the monkey is cute at the beginning, it gets annoying really quickly and it's just not much of a technical achievement when you consider that we're now in 2018 and playing through emulation, literally 52 years after this table has been published, holy shit!
Thing is, I started with this table because, quite frankly, there's just not a lot to say and it's literally the only table from this era in Pinball Arcade. It's not even close to Pinball's earliest table (D.Gottlieb & Co. had been manufacturing them since the '20s). It's enjoyable as a novelty but nothing like the more complicated fully electronic tables we'll see in later years, especially the DotMatrix display tables, and throughout the years Gottlieb has come up with some crazy tables, leading us to the saying "This sure is a Gottlieb ass table" when you find something that is outright bizarre.

It's historical value is amazing, but if I were to see one in the wild, I wouldn't put more than one quarter in, let's put it that way. It's a welcome novelty, but if you're like me and you like doing the challenges, you'll learn to loathe the Season 2 challenge because it starts with this table. Getting 1200 points isn't difficult to pass the table, but the fact that it has no music, and very similar bell sounds is just grating on my modern sensibilities.
Up Next: The '70s!